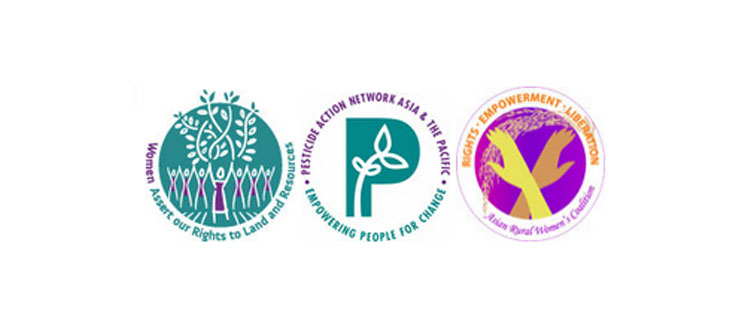 Rural women unite, kick off campaign March 8
As the world marks the International Women's Day on March 8, various groups from eight countries in Asia Pacific and Africa will kick off a campaign highlighting the plight and struggle of rural women through simultaneous activities by participating organisations.
"For more than a hundred years, the world has been observing the international day of women. While some gains for women's rights, borne out of their struggle, have been won, oppression and marginalisation based on gender remain prevalent. And perhaps among those who are most oppressed and marginalised are the women in the countryside," said Ms. Sarojeni Rengam, Executive Director of regional advocacy group Pesticide Action Network Asia and the Pacific (PAN AP) and a member of the Steering Council of the Asian Rural Women's Coalition (ARWC).
PAN AP and ARWC are among the groups behind the Women Assert Our Rights to Land and Resources, a global campaign that aims to underscore rural women's leadership, rights and role in agricultural development and food security. Rengam explained that the campaign would raise public awareness on the situation of women small food producers, highlight the specific impacts of land and resource grabbing on rural women, and engage policy makers to institute reforms.
At least 11 groups in eight countries in Asia and Africa will simultaneously hold mass actions and other activities to launch the campaign on March 8. The AMIHAN National Federation of Peasant Women and GABRIELA will join the anticipated thousands of protesters in Manila on March 8 led by progressive organisations of women and their supporters. In India, the Society for Rural Education and Development (SRED) and Tamil Nadu Women's Forum (TNWF) will hold public forums, cultural activities and protest actions. Meanwhile, in Sri Lanka, the Vikalpani National Women's Federation and Human Development Organization (HDO) will hold a symposium, poster campaign and mass mobilisation.
Other organisations participating in the campaign launch are Eco-Women in China; Seruni (Indonesian Women's Organization) in Indonesia; Research Centre for Gender, Family and Environment in Development (CGFED) in Vietnam; Center for Child Development (CFCD) in Sri Lanka; KHOJ Foundation in Pakistan, PAN Africa in Senegal, and Oxfam's East Asia GROW Campaign among other groups.
SRED's Ms. Fatima Burnad said that those who depend on agriculture for their livelihood are oppressed by existing social structures and flawed government policies, but the women among them are twice oppressed – first as a rural worker and second as a woman.
"Four out of every 10 farmers and agricultural workers are women and they produce more than half of the world's food. Yet, they are the most marginalised in terms of access to land and resources," Burnad explained, citing data from the Food and Agriculture Organization (FAO).
The physical and economic displacement of women due to land and resource grabbing further increases the stress on their rights as food producers, said PAN AP's Rengam. "The specific roles that women play in households also create the condition for their greater oppression. Worse poverty and hunger as a consequence of land grabbing, for instance, impact more heavily on rural women as they play a key role in managing the household budget, on top of their role as direct contributor to the family income," she said.
The two-year global campaign will culminate on 15 October 2015, International Rural Women's Day. A series of regional and local activities will be conducted such as workshops, cultural events, local travelling journal, leadership trainings and policy advocacy work.
A teaser of the campaign can be accessed here. ###
Contact: Marjo Busto, marjo.busto@panap.net