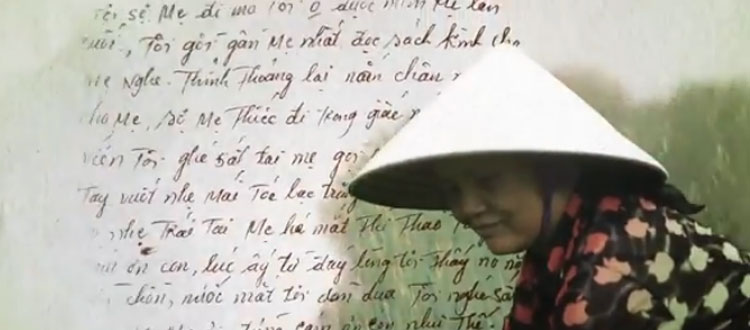 Travelling Journal Journeys Anew on Rural Women's Day
The Asian Rural Women's Coalition (ARWC), PAN Asia Pacific (PAN AP) and Oxfam's East Asia and South Asia GROW Campaign launched today the Women's Travelling Journal of Asian rural women in time for the United Nation's (UN) 6th International Day of Rural Women.
Now on its third journey, the travelling journal, "Our Stories, One Journey: Empowering Rural Women in Asia on Food Sovereignty" aims to highlight the important roles of rural and indigenous women in agriculture and rural development, improving food security, coping and adapting to climate change, and eradicating rural poverty.
The latest travelling journal will so far be the largest compilation of stories as 45 Asian rural women coming from Indonesia, Philippines, Sri Lanka, Bangladesh, Nepal, India and Pakistan share their stories and amplify their clamor for food sovereignty, climate justice and secure rights to land and resources. The travelling journal will culminate with the publication of the women's stories on March 8, 2015 on the commemoration of the 102nd International Women's Day.
'The travelling journal gives women a voice to share their lives and their struggles. Many have written that the journal initiative has been an enriching experience, increased their awareness and strengthened their solidarity with other rural women and communities,' said Sarojeni Rengam, executive director of PAN AP and Steering Committee member of the ARWC.
She added that, 'the journal comes at a time when Asian rural women are more marginalised and food insecure than ever, facing the onslaught of land and resource grabbing, corporate agriculture and neo-liberal policies which benefit a few corporations and countries, and elites.'
Rengam underscored that rural women are especially vulnerable to the impact of continuing and worsening land and resource grabbing since it will further marginalise their already limited access to productive resources. Faced with greater poverty due to increased monopoly over resources by corporations and landlords, women often shoulder the heavier burden for rural families to cope with deteriorating economic realities.
Norly Grace Mercado, East Asia GROW Campaign Coordinator, pointed out that women's stories on how they cope with and adapt to climate change is very crucial "since climate change affects production and exacerbates hunger. Women are in charge of ensuring the family's food security. They are also the ones overburdened when climate disasters strike."
Prior to this, two travelling journals journeyed around communities in Asia-Pacific and Africa, giving space and a medium for women to raise their voices and discuss both food sovereignty and sexual and reproductive health and rights issues.
The project builds on the success of the first-ever rural women's travelling journal of the ARWC, PAN AP and Oxfam's East Asia GROW Campaign, which lasted from March 8, 2013 to October 15, 2013. It involved 8 women writers from 8 countries in Asia namely Philippines, Indonesia, China, Cambodia, India, Sri Lanka, Malaysia and Vietnam. For 10 days, each woman wrote or illustrated through drawings and photos the daily activities in their homes, farms and communities regarding issues on food security, sustainable agriculture and economic development.
The success of the first travelling journal paved the way for the second leg of the journey that focussed on Asian rural women's sexual and reproductive health and rights. Organised by ARWC and the Asian-Pacific Resource and Research Centre for Women (ARROW), the second travelling journal of 17 women travelled in 11 countries across the Asia-Pacific and three countries in Africa. It also highlighted women's leadership in strengthening movements, influencing policies and system change.
'But the journey of the journal is far from over – we need to share these stories of women to as many communities as possible and inspire women to strengthen themselves as women, as farmers and as part of a movement for social change,' stressed Rengam.
The public is invited to follow the stories of the 45 women as their stories journey for six months through different social media platforms. ###
Watch the Women's Travelling Journal on Food Sovereignty teaser.
Follow the Journey!
Website: http://travellingjournal.asianruralwomen.net/
Facebook: https://www.facebook.com/wtjregional
Twitter: https://twitter.com/wtjsays
Hashtag: #WTJFoodSovLaunch
Reference:
Marjo Busto
PAN Asia Pacific
marjo.busto@panap.net
Asian Rural Women's Coalition Secretariat
media@asianruralwomen.net